Here's some basic information on Michael Thonet's classic bentwood furniture, and the most common repairs I've done on this style of furniture.
Michael Thonet (1796 – 1871) perfected and patented his process to create bentwood furniture in 1842. His favorite material was beechwood because it could be bent to create impressive designs.
In 1853 Thonet and his 5 sons set up their furniture company – Gebruder Thonet – in Vienna Austria.
Thonet designed the very popular bentwood chair (known as Chair No. 14) in 1859. This chair was made of only 6 pieces of wood and had a round cane or wood seat. It was lightweight, strong, and required no mortise and tenon joinery. The chair could be shipped flat, and easily assembled at destination. By 1930 more than 50 million bentwood chairs had been distributed.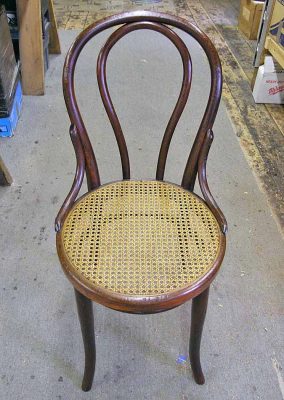 Repairs for antique bentwood chairs usually have to do with tightening, and or replacing the cane seat. I've also repaired many splits or cracks at the crest of the back, in the seat frame, and in the hoop that acts as a stretcher for the legs.
As for tightening bentwood chairs, sometimes it's just a matter of tightening the screws and re-gluing the front legs. Or, the screws will be stripped and their holes will need to be plugged and re-drilled.
Replacing the cane seat will either be hand woven (as original), or cane webbing which is a pre-woven sheet that is fitted and held in place with a spline around the perimeter.
When a bentwood chair needs everything (tightening, repairs, cane replacement, polishing) the costs can add up quick. But if there was ever a timeless style of furniture, it would be Thonet's bentwood furniture. And for that, I would consider this furniture worth restoring.